Colleen Hoover has written her most powerful novel yet. In this book, nothing is black and white. The experience It Ends With Us gave me was unforgettable and changed my perception of looking in from the outside.
It Ends With Us by Colleen Hoover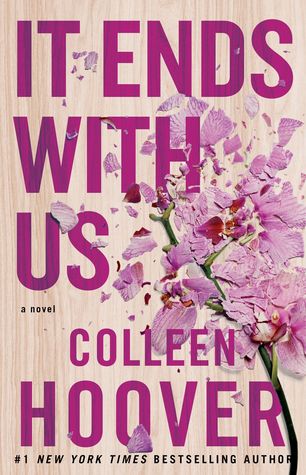 Lily hasn't always had it easy, but that's never stopped her from working hard for the life she wants. She's come a long way from the small town in Maine where she grew up—she graduated from college, moved to Boston, and started her own business. So when she feels a spark with a gorgeous neurosurgeon named Ryle Kincaid, everything in Lily's life suddenly seems almost too good to be true.
Ryle is assertive, stubborn, maybe even a little arrogant. He's also sensitive, brilliant, and has a total soft spot for Lily. And the way he looks in scrubs certainly doesn't hurt. Lily can't get him out of her head. But Ryle's complete aversion to relationships is disturbing. Even as Lily finds herself becoming the exception to his "no dating" rule, she can't help but wonder what made him that way in the first place.
As questions about her new relationship overwhelm her, so do thoughts of Atlas Corrigan—her first love and a link to the past she left behind. He was her kindred spirit, her protector. When Atlas suddenly reappears, everything Lily has built with Ryle is threatened.
5 OUTSTANDING KITTIES!
This is a book people need to read.
"There is no such thing as bad people. We're all just people who sometimes do bad things."
This review is probably going to be pretty short because I refuse to give any details as far as the plot. This book is one you MUST go into blind. I finally understand why Colleen said to start the book that way. Getting to go through everything with Lily was an unforgettable experience. You have to experience everything alongside Lily. You have to be her and find yourself wondering what just happened and what is going on. I promise you, if you read spoilers it will take away from your experience of reading this book for the first time.
"You're really beautiful when you're happy."
You will find that everything is not as black and white as you once thought. There are more shades of grey than are found in Mr. Grey's closet. I found myself wanting to apologize to people I had once judged. This book is an eye opener. I love that so many people are understanding the message. It is a wonderful thing. The raw emotion that Hoover puts on the page makes this book so special. I would encourage everyone to read this, but especially if you are a woman.
"Naked truths aren't always pretty."
Lily as a main character was wonderful. She is driven and passionate. She is strong despite her weaknesses. She was a joy to read. I loved Lily and her strength. As every CoHo book has, there were some amazing secondary characters! Allysa and Marshall were hilarious and such good friends to Lily. Other characters who make a short appearance are also hilarious and provide some good comic relief. I always end up loving the side characters almost as much as the main characters in her books. Hoover can make them so real.
"In the future . . . if by some miracle you ever find yourself in the position to fall in love again . . . fall in love with me."
If you have read this book I urge you to join the discussion group on Facebook, but not until you've read it. There are so many telling their stories and I am loving the empowerment and understanding this book is bringing forth.
Make sure you read the author note after finishing the book. That was one of my favorite parts. CoHo has done it again. I love this woman. It has to end with us.
"Be that girl, Lily. Brave and bold."
♥
If anyone would like to discus this book, message me through my website! I would be happy to talk books with you!
Please refrain from posting spoilers in the comments! 🙂