Great wrap up for this duology. Renée Ahdieh has a writing style all her own boasting rich characters and a rich setting that will have you wanting more.
The Rose and the Dagger by Renée Ahdieh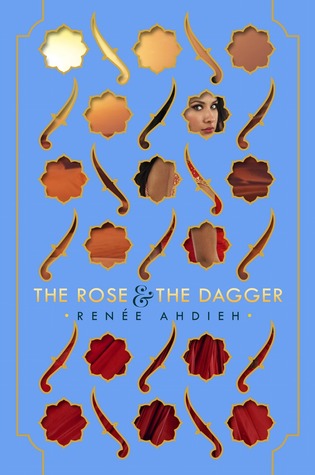 The darker the sky, the brighter the stars.
In a land on the brink of war, Shahrzad is forced from the arms of her beloved husband, the Caliph of Khorasan. She once thought Khalid a monster—a merciless killer of wives, responsible for immeasurable heartache and pain—but as she unraveled his secrets, she found instead an extraordinary man and a love she could not deny. Still, a curse threatens to keep Shazi and Khalid apart forever.
Now she's reunited with her family, who have found refuge in the desert, where a deadly force is gathering against Khalid—a force set on destroying his empire and commanded by Shazi's spurned childhood sweetheart. Trapped between loyalties to those she loves, the only thing Shazi can do is act. Using the burgeoning magic within her as a guide, she strikes out on her own to end both this terrible curse and the brewing war once and for all. But to do it, she must evade enemies of her own to stay alive.
The saga that began with The Wrath and the Dawn takes its final turn as Shahrzad risks everything to find her way back to her one true love again.
4 True Love Kitties!
I think I liked it so much because it was something I had never read before. It was new and fresh. That is what really grabbed my attention. The story has a richness that I have never felt before. Everything from the setting to the characters.  The characters are formal and unique. The dialect used between characters works well with the story. I loved that it felt authentic to the story.
"Two stubborn lovers, protecting each other from the very same threat."
I got hints of Aladdin in a lot of this book. The magic carpet, that weird temple thing, and some parts of the story to name a few. There was more action in this book for sure. The curses and magic were something I really enjoyed. I was kind of just going through this book without speculating too much because I really had no idea what to expect. That's pretty unusual for me. I always try to figure out plots and characters beforehand, but not in this book. I just experienced everything as it was happening and I think that made me like it that much more. There were a couple of twists that I really didn't see coming. They were done pretty well.
"That is not the way of it. Your future is not set in stone, my dearest star. A coin turns on itself a number of times before it lands."
I have to mention one part that had my heart swooning and that was when Shazi sees Khalid again. ♥♥♥ I felt their love for each other much more in this book than I did with the first. They felt more committed or atleast I noticed it more. They almost seemed a little more grown up. I loved Khalid standing up for Shazi. I felt the mutual respect within their relationships. The love triangle is pretty much laid to rest, which is completely fine with me.
"It was because they were two parts of a whole. He did not belong to her. And she did not belong to him. It was never about belonging to someone. It was about belonging together."
The richness breaks through so much, including the writing in this book. The first almost seemed a little shaky with words, but this book is solid. I think Renee was growing as an artist and I really saw her writing skills showing through in TRATD.
"From the stars, to the stars."
I felt like everything was resolved and I am thankful for that. I love seeing all loose ends tied in a book especially one that has so many questions that needed answering. Great book!
♥