Jennifer L. Armentrout writes a wonderful paranormal romance with twists and turns along the way. With the New Orleans setting and the lively characters this book will have you engaged from start to finish.
Wicked by Jennifer L. Armentrout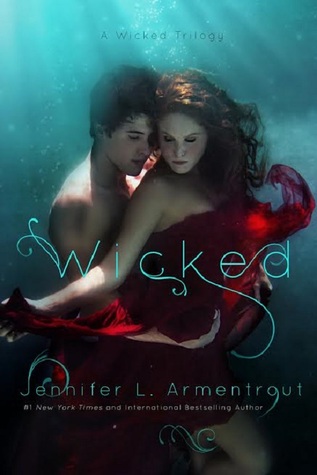 Things are about to get Wicked in New Orleans.
Twenty-two year old Ivy Morgan isn't your average college student. She, and others like her, know humans aren't the only thing trolling the French Quarter for fun… and for food. Her duty to the Order is her life. After all, four years ago, she lost everything at the hands of the creatures she'd sworn to hunt, tearing her world and her heart apart.
Ren Owens is the last person Ivy expected to enter her rigidly controlled life. He's six feet and three inches of temptation and swoon-inducing charm. With forest-green eyes and a smile that's surely left a stream of broken hearts in its wake, he has an uncanny, almost unnatural ability to make her yearn for everything he has to offer. But letting him in is as dangerous as hunting the cold-blooded killers stalking the streets. Losing the boy she loved once before had nearly destroyed her, but the sparking tension that grows between them becomes impossible for Ivy to deny. Deep down, she wants… she needs more than what her duty demands of her, what her past has shaped for her.
But as Ivy grows closer to Ren, she realizes she's not the only one carrying secrets that could shatter the frail bond between them. There's something he's not telling her, and one thing is for certain. She's no longer sure what is more dangerous to her—the ancient beings threatening to take over the town or the man demanding to lay claim to her heart and her soul.
♥
Classic JLA. I kind of got hints from The Dark Elements Series and some from The Covenant Series and even some from The Lux Series. With the heroine being a fighter against some sort of evil and a love interest or two. There's always some type of halfling. Despite that, Armentrout writes a good paranormal romance. Well, atleast PNR books that I like. Armentrout isn't a super eloquent writer and I wouldn't call Armentrout's writing style "classic" by any means. She always brings her own flare that is unmistakably JLA. I love that about her writing, she is unique to herself and it works for her very well. It says something about an author when you can say something is classic to themselves. She can also crank out books like no other. I have been reading her books for years and still haven't reached the bottom of the pile.
Tink was my favorite in Wicked. How freaking adorable is he? He kinda reminds me of elf with his sugar addiction. When he comes to her rescue with the tiny frying pan and this whole exchange of dialogue below, I think you will understand why you should read JLA books.
"Grabbing a scarf off the chair, I threw it at him.

He caught it, clutching it to his chest as he flew into the air. "You gave Tink a scarf. Tink is free!" He flew out into the hallway like a little cracked-out fairy, screeching, "Tink is freeeeee!"

Ren looked at me. "What the actual f**k?"
I sighed. "He's obsessed with Harry Potter. I'm sorry."

Tink darted back into the room, holding the scarf to his bare chest. "There is no reason to apologize when it comes to Harry Potter."
"You do remember what happened to Dobby, right?" I said.

"S**t." Tink's eyes widened and he dropped the scarf."
Ivy Morgan is basically a hunter of fae creatures who have come into our world from another realm. She is part of a secret order of humans who have hunted fae as long as they can remember. You are born into it and it's hard to get out. Ivy likes her life for the most part, but she strives for more by goign to college part time. Even though, she would be hard pressed for an answer as to why she's attending college. When she meets Ren, the new guy on the block in the order, all of what she believed is about to change.
"When in doubt, get the f**k out."
I love New Orleans as the setting for this book. I love anything paranormal with a New Orleans setting. It makes it that much more eerie with the voodoo and weird shit. I've never visited New Orleans, but I want to so bad. I don't live extremely far from there so it wouldn't be too hard to visit. I would love to see all the history that is there.
"A guy was riding a . . . unicycle on the side of the road, wearing a . . . blue cape. What the hell?

Only in New Orleans."
There was a lot more romantic scenes, if you know what I mean, than I thought their would be. But, I mean this is JLA and new adult so I don't know what I expected. Ren was quite the protector and had some sweet qualities. I felt like he was the typical love interest in her books, but it always works pretty well. I will say there is no love triangle in this one and the drama within the relationship is minimal.
"Why couldn't he say I reminded him of Ariel or something? Then again, Ariel was kind of stupid, giving up her voice for a dude."
Armentrout always seems to make me do three things. The first one being laugh. She has really funny dialogue and witty banter. Plus, her characters are always saying something crazy or embarrassing. The second thing being swoon. It might not always be a big swoon, but she writes a great male lead every time. The third thing would be the element of surprise. Like swooning, it might not be huge, but she almost always surprises me with a twist in the plot or a twist from the characters. That combination makes for a great book.
That twist at the end, though… She got me.
"You wouldn't lie to me, would you, Tink?" "No." He grinned. "You have Amazon Prime."