Wonderfully crafted retelling of 1001 nights. The plot is intriguing, the characters are complex and the setting is rich.
The Wrath & the Dawn by Renée Ahdieh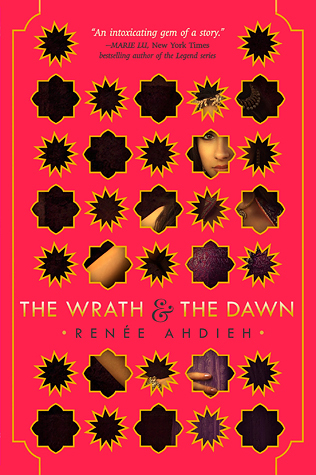 One Life to One Dawn.
In a land ruled by a murderous boy-king, each dawn brings heartache to a new family. Khalid, the eighteen-year-old Caliph of Khorasan, is a monster. Each night he takes a new bride only to have a silk cord wrapped around her throat come morning. When sixteen-year-old Shahrzad's dearest friend falls victim to Khalid, Shahrzad vows vengeance and volunteers to be his next bride. Shahrzad is determined not only to stay alive, but to end the caliph's reign of terror once and for all.
Night after night, Shahrzad beguiles Khalid, weaving stories that enchant, ensuring her survival, though she knows each dawn could be her last. But something she never expected begins to happen: Khalid is nothing like what she'd imagined him to be. This monster is a boy with a tormented heart. Incredibly, Shahrzad finds herself falling in love. How is this possible? It's an unforgivable betrayal. Still, Shahrzad has come to understand all is not as it seems in this palace of marble and stone. She resolves to uncover whatever secrets lurk and, despite her love, be ready to take Khalid's life as retribution for the many lives he's stolen. Can their love survive this world of stories and secrets?
Inspired by A Thousand and One Nights, The Wrath and the Dawn is a sumptuous and enthralling read from beginning to end.
4 Rich Kitties!
Sharhrzad takes on the task of revenge by volunteering to be the next wife of the Caliph of Khorasan. The ruthless boy king has murdered many wives before her at dawn the day after they are wed. His victims include her best and most dear friend, Shiva. After she survives the first night and the second night with the king, she starts to see he isn't exactly what she thought he was.
"There is no one I would rather see the sunrise with than you."
This book was confusing at first. The 3rd person POV and skipping around between characters at the start of the book was hard to grasp. The names are so unique that it was hard to keep track of everything because each person was called by a few different names depending on who was talking to them. As the story moves on I didn't notice it as much and it just flowed better.
"Some things exist in our lives for but a brief moment. And we must let them go on to light another sky."
I was really intrigued by the blurb. I have never read 1001 nights, but this retelling makes me want to. The story line had my curiosity piqued. The mystery surrounding the boy king was so wonderfully crafted. My fascination with this story, the characters and the setting are boundless. I love how well developed the cast becomes in just a short time. I think a lot of their inner turmoil is brought to the surface through their monologues. The author does the setting so much justice. Setting the scene in each chapter was one of my favorite things to read in this book. It is so vivid in my mind.
"My soul sees its equal in you."
There is something to be said about the culture in this book. I love the traditional customs and vividness of their lives.  Everything is rich, that's the best word I can think of to describe it. Just rich. The foods, the colors, the people. Everything. I think the cover below shows the richness of their culture. I love the red cover, but the cover model below shows some of the dress and the ethnicity of the characters. I think that helps even more to boost your imagination.
The relationships that Shazi develops over the course of her time in Khorasan were something I truly loved. I love chemistry in characters. She is witty and makes the characters love her with little effort. Sharhrzad is a wonderful heroine. She's strong, confident, and smart. She's someone we can all root for. I think the dynamic between her and Jalal was my favorite of them all. I liked her relationship with Khalid, but it was a little more formal. Her friendship with Jalal was just easy and those are my favorite types of realtionships.
"I love you, a thousand times over. And I will never apologize for it."
I finally made it thorugh and the ending was somewhat confusing for me too. I know there is a second book, but it was a weird way to end this book. The ending also came on sort of quickly. For the length of the book, I really didn't take away that much content. Like, I know everything that happened, but it just wasn't that much.
Despite my few complaints I thought this was a solid read that I enjoyed very much. I look forward to finishing the series with The Rose and the Dagger. I think it will have more action and turmoil as far as Shazi and Khalid are concerned.
"Shazi,

I prefer the color blue to any other. The scent of lilacs in your hair is a source of constant torment. I despise figs. Lastly, I will never forget, all the days of my life, the memories of last night—
For nothing, not the sun, not the rain, not even the brightest star in the darkest sky, could begin to compare to the wonder of you.

Khalid."
♥
What did y'all think?