Super entertaining follow up to the wildy popular You. Joe sets his sights on true love and will stop at nothing to keep the bodies hidden.
Hidden Bodies by Caroline Kepnes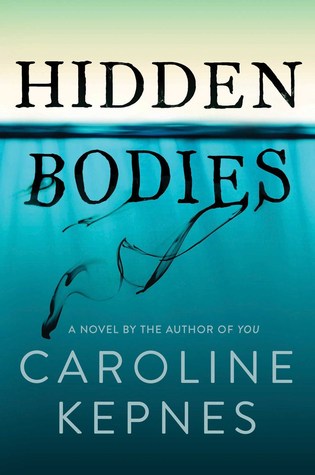 Joe Goldberg is no stranger to hiding bodies. In the past ten years, this thirty-something has buried four of them, collateral damage in his quest for love. Now he's heading west to Los Angeles, the city of second chances, determined to put his past behind him.
In Hollywood, Joe blends in effortlessly with the other young upstarts. He eats guac, works in a bookstore, and flirts with a journalist neighbor. But while others seem fixated on their own reflections, Joe can't stop looking over his shoulder. The problem with hidden bodies is that they don't always stay that way. They re-emerge, like dark thoughts, multiplying and threatening to destroy what Joe wants most: true love. And when he finds it in a darkened room in Soho House, he's more desperate than ever to keep his secrets buried. He doesn't want to hurt his new girlfriend—he wants to be with her forever. But if she ever finds out what he's done, he may not have a choice…
4 Elusive Kitties!
Joe is still on his quest for true love. Now the target of his affection is Amy Adam. We meet her at the end of You. She has on a sweatshirt with a college logo she has never attended, but pretends to be an alumni. She has a stolen credit card and some other sketchy traits. She is an interesting human. I was intrigued with her from the start. Now Joe has her in his crosshairs, but it might not be her who is being played for a fool.
"The real horror of my life is not that I've killed some terrible people. The real horror is that the people I've loved didn't love me back."
Once Joe decides to move to Los Angeles in his new quest for revenge he has his new mission. He is very resourceful with everything he does. A complete chameleon when it comes to different crowds of people. He blends in with the most wealthy in the world as well as the mere struggling actors or artists. It is no surprise when he meets another girl in his mission to find Amy. Love is her name and Joe will make sure love is what she feels for him.
"It is possible to know people. They show you who they are. You just have to be looking."
I haven't felt bad for any of Joe's victims thus far, except for one. I don't know why I felt so bad for this person. I love super dark reads and this is one that is so unique that you will want to root for the bad guy, however maybe this one I didn't get to know very much and maybe didn't get the feel that they needed to die to keep him out of trouble. Obviously I won't say who it is.
"A book lets you choose how much of the blood you want to see. A book gives you the permission to see the story as you want, as your mind directs."
This book seems a little all over the place at times, instead of one singular thing that completely took over his life, there are several new factors that Joe is now focused on. He seems like a new person in the sense of complete obsession, however he is the same witty minded character who is searching for what he believes is true love. His obsessions are spread out a little more between different people, actions, and thoughts. Amy was very elusive. I feel like they are a lot alike.
"And there is nothing more terrifying than realizing the one who knows you best loves you least."
I feel like if you adored You, then this doesn't quite live up to the uniqueness that was Joe. In Hidden Bodies, Joe wasn't as exciting to read about. I had super high expectations for this book. I would not say it let me down by any means. It is still fabulous, but it didn't have the same new sparkle as You. Some of the mystery is gone. It is just more of the same.
"Memories are all the same at their core; it's just us trying to keep each other alive, the best parts anyway."
If You didn't convince me enough, this book will make me read anything Caroline Kepnes publishes. I love her style. It is so unique and witty. It's something very special when you can make your audience root for a serial killer and enjoy doing it.
♥
Y'all. If you haven't read You by Caroline Kepnes yet, I need you to go do that now. It won't be for everyone, but if you like twisted dark reads then I have a feeling you will adore these two books.
What did you guys think about the 2nd book? Was Joe the same to y'all or had he changed?