Wonderfully crafted novel that takes you on a journey through the fantasy world of faeries, witches, and otherwordly creatures.
Heir of Fire by Sarah J. Maas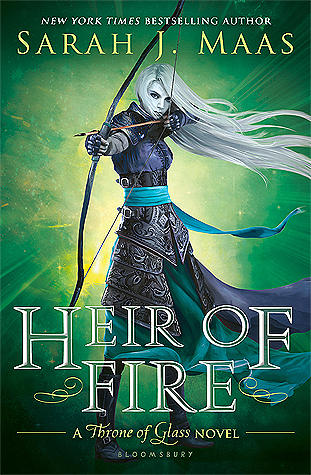 She was the heir of ash and fire, and she would bow to no one.
Celaena Sardothien has survived deadly contests and shattering heartbreak—but at an unspeakable cost. Now she must travel to a new land to confront her darkest truth…a truth about her heritage that could change her life—and her future—forever.
Meanwhile, brutal and monstrous forces are gathering on the horizon, intent on enslaving her world. To defeat them, Celaena must find the strength to not only fight her inner demons but to battle the evil that is about to be unleashed.
The king's assassin takes on an even greater destiny and burns brighter than ever before in this follow-up to the New York Times bestselling Crown of Midnight.
3 Assassin Kitties!
"It would not take a monster to destroy a monster – but light, light to drive out darkness."
My first complaint about this novel is it is entirely too long. Don't get me wrong I love and devour long ass books if the content is worthy. However, I feel like a lot of this could have been taken out that didn't provide any substance to the series. It took me so long to read this one. I don't know if I'm just getting burnt out on the series or what. Queen of Shadows has such good reviews so I definitely have to read that even if it is longer than this. Someone did tell me this wasn't their favorite and I have to agree. After loving Crown of Midnight so hard I was expecting gold with this, but I think I just got bronze.
"You didn't need a weapon at all when you were born one."
With all that being said this book is still very good, it's just following my favorite in the series this far so I think it made it seem a little less than what it actually is. Sarah J. Maas is a wonderful artist with words. Her stories flow with the strength of a raging fire and are mysterious as the dark side of the moon. What? Nevermind.
"She was the heir of ash and fire, and she would bow to no one."
I really enjoyed this book despite how slow I ended up reading it. The parts with the witches were my favorite! I was looking forward to each chapter with them in it. I kept wanting to hurry along anything with Celaena or Chaol or Dorian and they are my crew! The witches are just so interesting. Manon is a ruthless killer with iron teeth, but I love her! I really didn't understand the whole witch thing at first. It felt like it was just thrown in, but now I want a series dedicated to them! I would totally be on board with that. The change in POV from the others to Manon's was kind of jarring to start with, but smooths out more by the end.
"Witches didn't need blood to survive, but humans didn't need wine, either."
The development of each character just keeps getting better. I feel like Celaena is a completely different person than when she began this journey. The progression of her magic was interesting to witness. I really felt the endurance she must have to control it. Chaol seems to be redeeming himself greatly in this book. He and Celaena have not seen each other for some time now, but he is on the right path I believe. Dorian feels like a totally different person as well. I think he is stronger and more willing to stand up to his father. There are also a couple of new main characters: Rowan, who is Celaena's mentor for magic as well as other things and Sorscha who is a healer in the castle who Dorian becomes close with. Both characters play pretty big roles in this book. I can't wait to see more of what Rowan is capable of.
"And then I am going to rattle the stars."
The last part of the book around 80% is when everything picks up a little. More action and intense scenes and even parts that had me gasping! Overall, it was pretty good. The slower parts were made up for later.
"The people you love are just weapons that will be used against you."
♥
Which book in this series is your favorite?
What do you think about the relationships in this book?