Sports romance that is as much funny as it is steamy. Throw in some awkward and a dash of inappropriate and you have Pucked Over.
Pucked Over by Helena Hunting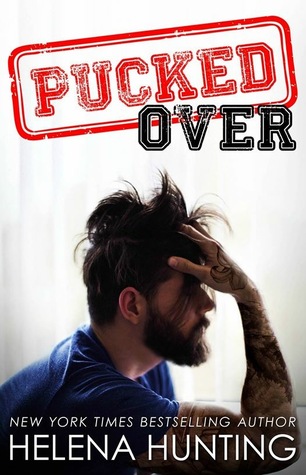 Lily LeBlanc isn't versed in the art of casual sex, but after seven years in an on-again, off-again relationship, she's definitely willing to give it a shot. And who better to try it with than her best friend's boyfriend's best friend? What could possibly go wrong? Nothing at all.
NHL player, Randy Ballistic, lives up to his last name on the ice and in the bedroom. His best friend and teammate has recently given up the puck bunnies and traded them in for a real girlfriend. And she just happens to have a seriously feisty, extra-hot best friend on the rebound. Randy's more than happy to be Lily's spring board back into the dating scene.
Casual sex is only casual until those pesky things called emotions get involved. Once that happens, someone's bound to gets pucked over.
4 Balls Stars!
I think this book was my favorite out of the series! Randy just has something about him. I really loved his character. Him and Lily's relationship was playful and their banter was hilarious. I'm not sure what sucked me in so much, but I love this series! It's just silly, smutty goodness!
Lily is Sunny's best friend since forever. She has recently gotten out of a long term relationship and isn't really looking to get into another one. When Randy Ballistic comes into the picture, she is more than willing to give "casual" a shot. It seems to be working out for the best. I loved the little scene where he runs up to her when they were apart for a while. That was so freaking cute and I wasn't expecting it. I love little details in stories that make me feel all mushy. Randy is a ladies man so those little moments make him seem more real.
Randy was my favorite! He has some.. interesting issues to say the least. I will leave that mystery for you guys to figure out because it is one insecurity that I have never seen before. I like the uniqueness though.
I loved all the characters/couples interacting together. I particularly love romance serials that keep going back to the first book. It's what makes you fall in love with the series to begin with. Also, I like that the events are ongoing instead of retellings. That keeps the story fresh.
This book was just adorable and hot! Can't forget hot! There are plenty of adult scenes in this book that are super steamy.
I'm glad I decided to continue this series!
♥
Do y'all read romance serials? What's your favorites?