Hauntingly creepy and brilliantly written, Kepnes is an acquaintance of crazy and has a connection with the written word.
You by Caroline Kepnes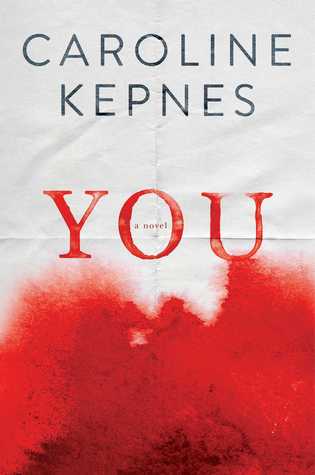 When a beautiful, aspiring writer strides into the East Village bookstore where Joe Goldberg works, he does what anyone would do: he Googles the name on her credit card.
There is only one Guinevere Beck in New York City. She has a public Facebook account and Tweets incessantly, telling Joe everything he needs to know: she is simply Beck to her friends, she went to Brown University, she lives on Bank Street, and she'll be at a bar in Brooklyn tonight—the perfect place for a "chance" meeting.
As Joe invisibly and obsessively takes control of Beck's life, he orchestrates a series of events to ensure Beck finds herself in his waiting arms. Moving from stalker to boyfriend, Joe transforms himself into Beck's perfect man, all while quietly removing the obstacles that stand in their way—even if it means murder.
5 STALKER KITTIES!
This is weirdest, most addicting and troubling novel I have ever read and it was fan-freaking-tastic. It was so unique and scary and wonderful. I am completely blown away.
I was completely engrossed by the first page. This is unlike anything I have ever read before. It is completely brilliant. The story is told from the stalker's POV. Joe Goldberg is completely deranged, but what's even more deranged is I was on his side some of the time. I had to remind myself.. he's crazy! You can't like him! But I did like him. A lot.
"Work in a bookstore and learn that most people in this world feel guilty about being who they are."
This is the first book I've read in second-person narrative and I think that made me love the book so much more. The prose is absolutely engaging and brilliant. I can't say enough good things about the way this book is written.
"You are a woman and I am a man and we belong in the dark together."
Joe is basically talking to this girl the whole time, in his head mostly. He is fixated on everything that is HER. I wanted to know a little bit more about Joe's past because that doesn't come up much, but the parts that we did get made me understand him a little better.
"Talking to you is like traveling through time"
Joe is many things, but mostly psychotic. He's charming and different, but in a way that makes you feel at ease. All of his inner thoughts are much worse than what he shows on the surface and if this doesn't make you question everyone you know, I don't know will. Since finishing this story up I have been looking at strangers differently or even other people's interactions with one another. This book has made me suspicious of everyone!
"And I will never again underestimate the power of anticipation. There is no better boost in the present than an invitation into the future."
I listened to the audio verision of this and it was fantastic! This is probably my favorite audiobook to date. The narrarator captured Joe's character better than I could have ever read it myself. I urge you, if you have tried to read this and it didn't catch your fancy or you didn't get it… try the audio.
I feel like I have to warn you though, I didn't realize going into this book that there are a lot of erotic scenes. That's not something that bothers me, I actually like scenes like that if they are done correctly, but if that is something you have no interest in then  I would skip this one.
By all the gushing, I think you get it.. just read it.
"The problem with books is that they end."
♥
Have you guys read this and met the insane that is Joe?
What's the weirdest book you've ever read?