Sequel to Pucked is a solid story of angsty love and more hot hockey players. If you liked Pucked, you will love this.
Pucked Up by Helena Hunting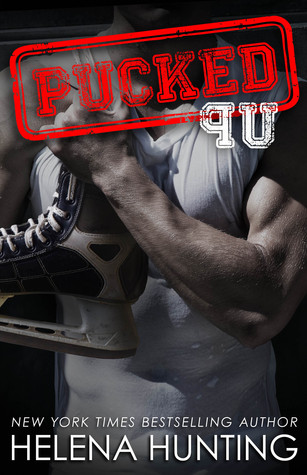 Miller "Buck" Butterson has been banging his way through life ever since a puck to the face fixed his messed up front teeth, and he was drafted into the NHL during his first year of college. After five years of deflecting goals on the ice and scoring them with puck bunnies across the Continental US and parts of Canada, Miller is ready for a girlfriend. A real girlfriend of the non-bunny variety. One he takes on dates and doesn't jump into bed with after five seconds of conversation.
Miller thinks he's found that woman in his teammate's sister. Except, unlike Alex Waters, center, team captain and all round nice guy—who happens to be dating his step-sister—Miller's manwhore reputation is well earned, and not blown out of proportion by the media. Beyond that minor detail, Miller doesn't know the first thing about having a girlfriend. But he's determined to make it happen.
What he doesn't take into account is the amount of time and effort relationships require, or that constantly letting bunnies take selfies with him to post all over social media isn't going to win him any points in the boyfriend department. Miller learns—not so quickly—that if he wants to make Sunshine "Sunny" Waters fall for him, he going to have to do a whole lot more than show her his stick skills in the bedroom.
3 Pucking Kitties!
Another solid book. I love that the story is an ongoing timeline instead of a retelling of timeline events. Those can get old. As we see in Pucked, Miller "Buck", is seen with Sunny (Alex's sister) and Alex is not happy about it. Miller's reputation preceeds him and even though Alex has had his fair share of rumors and lies thrown around about his personal life, he is really protective of his sister. Alex thinks he is trying to get back at him for the way he acted with Violet. It takes some time before everyone opens up to their relationship.
Sunny is really cute and super crunchy. She is a vegan eating, yoga doing, ray of sunshine. I liked Sunny's character. She has basically been in her brother's shadow her whole life so it feels like now, she is putting herself out there a little bit more. Sunny had a serious boyfriend in high school and a little while after that, but they broke up. I really disliked his character. There wasn't a ton of him in the book though. Everytime he would show up Miller would get super jealous and it was hilarious.
It was nice to see Miller's side of everything that goes on with the puck bunnies and how much of a misunderstanding most of it is. There are quite a few times he gets into trouble without even meaning to. I liked getting to see some things he struggles with, like his dyslexia. Seeing Miller more as a person made me like him so much more.
Hunting still incorporates the raunchy humor we grew accustomed to in Pucked. The awkward moments come from both Sunny and Miller. We have a lot of inappropriate and plenty of steamy to get you through this novel with ease.
More smutty goodness to go around.