Yancey is back at it again with precise characterization, fierce energy, and an eerie awareness that time is running out.
The Last Star by Rick Yancey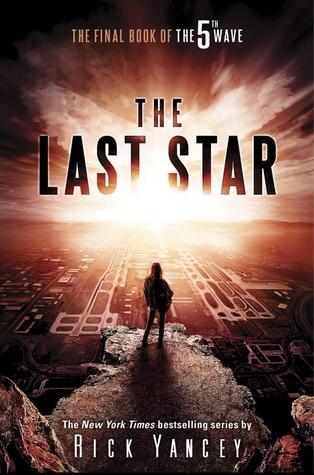 The enemy is Other. The enemy is us.
They're down here, they're up there, they're nowhere. They want the Earth, they want us to have it. They came to wipe us out, they came to save us.
But beneath these riddles lies one truth: Cassie has been betrayed. So has Ringer. Zombie. Nugget. And all 7.5 billion people who used to live on our planet. Betrayed first by the Others, and now by ourselves.
In these last days, Earth's remaining survivors will need to decide what's more important: saving themselves…or saving what makes us human.
4 Other Stars!
The Last Star… The. Last. Star.
"Love is forever. If it wasn't, it wouldn't be love. The world is beautiful. If it wasn't, it wouldn't be the world."
How do I put into words how much I was anticipating this book? I think it's impossible. I was so engrossed with The 5th Wave. I love YA and I am such a sucker for YA trilogies, don't ask me why because I don't know, but they are my favorite. It felt like I had to wait for ages to get this book AND I actually purchased it because my library had a wait list of 22 PEOPLE! I couldn't wait for months to read what happens! Whatever, it was worth it.
I have been trying to process what happened for a while now. It's something BIG. I really didn't see this coming until right before, and that's all I will say about it. Moving on…
The story kind of starts out a bit slow and weird. It took me a minute to get back into Yancey's writing and the world. I did not reread the other 2 books like I would normally do before the finale in a series. I really just didn't have the time, but after a few chapters I melted right back into the story. After I got my footing, the story really picked up for me. There are so many different elements going on, but mostly it is just scrictly survival. I feel like the story has progressed SO much since The 5th Wave. I don't really feel like the characters are even the same people after all they have been through.
"We bear the unbearable. We endure the unendurable. We do what must be done until we ourselves are undone."
Yancey has to cover so much and so many POVs in one book that I think some of the smaller details in the characters I loved so much was lost in translation. There is a sort of shift in character focus from The 5th Wave to The Infinite Sea and then to The Last Star. I feel so connected to all of them and that rarely happens.
A lot of the time with trilogies I get so engrossed in the first novel because it is all new. I'm learning new worlds, new customs, learning about new characters, and everything in between. Then, by the last book I feel a sort of complacency or almost predictability. That was pretty much the case with this series as well, except there were still some things that shocked me. I had a couple of wide eyed moments and some moments I'm still in disbelief from.
I don't have a whole lot to say about the plot because most of what I would say is just emotions and it's hard to portray those correctly in words. One thing that is absolutely certain, Rick Yancey has a way with words. I am always captivated by the way he can word things. He can take the barest of sentences and make them sounds amazing.
This book is some of what I expected with a lot of the unexpected thrown in. The superb storytelling and the wonderful characters made this series worthwhile for me.
I am humanity.
Love conquers all.
I felt a little numb at first, but now my heart is breaking.
"But I am even more than this. I am all those they remember, the ones they loved, everyone they knew, and everyone they only heard about. How many are contained in me? Count the stars. Go on, number the grains of sand. That's me.
I am humanity."
♥
Have you guys read The 5th Wave? What did you think of it from the first book to the last book?
Have you watched the movie? I did and it just seemed like it was a little young.
*************Spoiler thoughts/questions below***********
♥
♥
♥
♥
♥
I'm still a little confused about who caused/did all of this or I guess more why they did this. Who was the sole person who orchestrated this? Like who created the 12th system? Who are these advanced humans who were able to create it?