Wonderful message with compelling characters, however the overall flow of the story, the inner monologues and the slow plot-line held me back from loving it overall.
The Problem with Forever by Jennifer L. Armentrout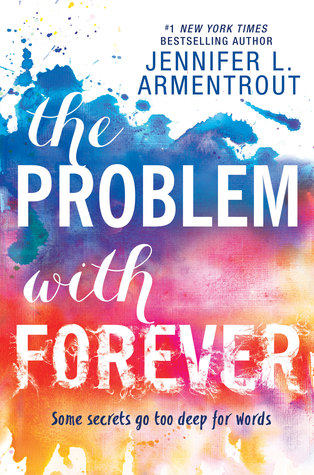 For some people, silence is a weapon. For Mallory "Mouse" Dodge, it's a shield. Growing up, she learned that the best way to survive was to say nothing. And even though it's been four years since her nightmare ended, she's beginning to worry that the fear that holds her back will last a lifetime.
Now, after years of homeschooling with loving adoptive parents, Mallory must face a new milestone—spending her senior year at public high school. But of all the terrifying and exhilarating scenarios she's imagined, there's one she never dreamed of—that she'd run into Rider Stark, the friend and protector she hasn't seen since childhood, on her very first day.
It doesn't take long for Mallory to realize that the connection she shared with Rider never really faded. Yet the deeper their bond grows, the more it becomes apparent that she's not the only one grappling with the lingering scars from the past. And as she watches Rider's life spiral out of control, Mallory faces a choice between staying silent and speaking out—for the people she loves, the life she wants, and the truths that need to be heard.
2 Kitties!
I have read all of Armentrout's books and I will say this is something totally different than her other books. I am proud of her for stepping more out of her box and writing about something meaningful. I love JLA, I like all of her books, but this one just wasn't for me. I think this is just a case of a "it's not you, it's me" scenario.
The main character has gone through some shit, I get it, but damn she was just so annoying at times. I feel so bad saying that because I felt so sorry for her. I liked her as a character, but her inner monologue was just really boring. I hate to say that. I feel like a bad person, but it was just too much for me at times. My heart broke so many times reading all the awful things she went through in her childhood and things she is still dealing with today. This was really heavy stuff. The flashbacks were quite terrifying.
"It was all about trying, and that was what I would do. I would try."
Mallory and Rider's love story was so sweet. Rider is the ultimate protector. Even though they are still in high school, they felt like old souls. They were put together for a reason and really helped each other through the tough times in the foster care system. Rider has a strong face on the outside, but is also dealing with his issues in a different way. We come to find out he isn't as put together as he seems. While Mallory wears her insecurities on her sleeve, Rider's are more hidden, but still there underneath everything.
One things JLA always does well is chemistry between characters. They definitely had chemistry. Mallory and Rider felt like complete soul mates, but other than that all of the characters had chemistry within each other. Rider is the noisy to her silence. Jayden was the outgoing to her reserved. Hector was the levelheaded to her unstable. Everything had a great balance within the characters.
"We've been separated. But we had never really been apart."
The concept of the story was great and I loved the message, but the overall flow of the story, the inner monologues and the slow plot-line was really what held me back from loving it overall.
♥
Have you guys read this yet? It was just released a couple of weeks ago, but JLA is one of my go-to authors so I picked it up pretty quickly.
What did you think about Mallory? Am I alone?
P.S. I really, REALLY love this cover. It is beautiful.