The final installment in McGuire's Beautiful series wraps up the Maddox brothers with emotional scenes, vivid characters, and a great story I will remember for some time.
Beautiful Burn by Jamie McGuire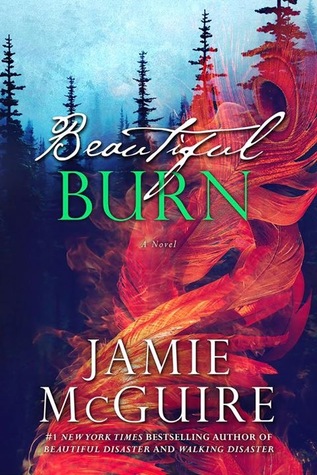 Fresh out of college, Ellison Edson has fallen through the cracks of rock bottom. While staying in her family's vacation home in Colorado, her behavior has finally gained the attention of her parents—but not in the way she hoped. Cut off from the millions she's always taken for granted, and left alone to fend for herself, Ellie spirals further out of control, making a mistake she can't take back.
Like his twin brother Taylor, Tyler Maddox is a member of the Alpine Hotshots, fighting wildland fires on the frontline. As arrogant as he is charming, Tyler's nomadic lifestyle makes it easy to contain his relationships to one night. When he meets Ellie at a local party during off-season, her extreme personality and dismissive attitude fascinates him at first, but as his feelings deepen, Tyler realizes that the crippling inner demons of the woman he loves might be the strongest enemy any Maddox has ever faced.
4 Maddox Kitties!
This was my favorite in the Maddox brothers series, and not for the boy this time. I really adored Ellie. She starts out as an awful rich girl without a care in the world. As soon as the story starts I thought I would end up hating her, because she has some seriously messed up thoughts and actions. As the story progresses however, you see Ellie transform. Not all at once, but a little at a time. She has some setbacks, some greater than others. I just really loved going on this journey with her.
Ellie is a super sarcastic bitch, but I liked that about her too. Her wit wasn't really charming, but a more "in your face" guard for her feelings. I loved watching her be melted a little at a time.
"I leaned over, barely touching my cheek to his arm. Without hesitation, Tyler reached around my shoulders and hugged me against his side. I stiffened at first, but then relaxed, feeling the warmth of his body thaw my frozen bones."
As for Tyler, I think he might have been my favorite Maddox brother as well. It's a tough choice between him and Trent, but I love Beautiful Burn more so for now, Tyler. Tyler seemed different than the other Maddox brothers. He was still all alpha, but he seemed softer somehow.
"When a Maddox boy falls in love, he loves forever…"
Tyler is so sweet. He has his own struggles, just like everyone else, but he really is perfect for Ellie whether she believes it or not. The fighting we endured in this book was a little different than the fighting Travis (Beautiful Disaster) is used to. Tyler is fighting for Ellie's heart despite her doubts about him and love in general.
"I'm a firefighter, Ellie. I do the saving in this relationship."
After being cut-off by her parents, Ellie gets a gig doing photography for a local magazine. She is put to the task of following the hot shots to photograph and write a story on their work. I really liked getting to see first hand what the hot shots do when they are fighting fires. That was so interesting and something that was sort of a mystery in Beautiful Sacrifice. In this book we get in depth knowledge and get to travel along for the ride during the season. Ellie follows the crew around for months getting shots of the wild fires and the crew as well as interviews and stories surrounding their jobs and lives. She becomes really close to the Alpine crew and it is really cute how attached they all become to her. She is kind of like a big sister/mom to them.
"Holding my camera, freezing, and a mile from flames that could burn me alive, I'd finally found what I didn't know I was looking for."
Reading through Ellie's demons was really hard. My heart broke for her many times. I wasn't ever really mad at her for the choices she made, I seemed to get mad at everyone else for enabling her. Which I know is not right, but I just couldn't seem to blame her. I wanted to help her, but sometimes no one can help you but yourself. You have to be willing.
"There was a dark part of me that just couldn't let myself be happy, and sabotaged anything good before I could lose it."
Seeing how I read this book in one sitting, I definitely liked it. It felt different from McGuire's other "Beautiful" books.
Also, this is my favorite cover out of all the Beautiful books. It is just so pretty!
P.S. Something that is really driving me crazy. Who sent the flowers???
♥
Have you guys hopped on the Maddox train? I refrained as long as I could, but there was no stopping once I boarded.
What do you think of the New Adult genre? Love or hate?
Who is your favorite Maddox?
Does anyone else feel like Jim should get a novella love story?