Whoa. Celaena is my spirit animal. The assassin is back and out for blood in this second installment in the Throne of Glass series.
Crown of Midnight by Sarah J. Maas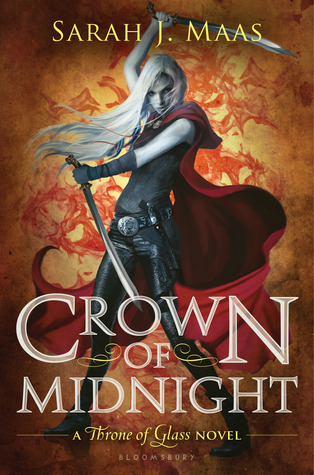 "A line that should never be crossed is about to be breached.
It puts this entire castle in jeopardy—and the life of your friend."
From the throne of glass rules a king with a fist of iron and a soul as black as pitch. Assassin Celaena Sardothien won a brutal contest to become his Champion. Yet Celaena is far from loyal to the crown. She hides her secret vigilantly; she knows that the man she serves is bent on evil.
Keeping up the deadly charade becomes increasingly difficult when Celaena realizes she is not the only one seeking justice. As she tries to untangle the mysteries buried deep within the glass castle, her closest relationships suffer. It seems no one is above questioning her allegiances—not the Crown Prince Dorian; not Chaol, the Captain of the Guard; not even her best friend, Nehemia, a foreign princess with a rebel heart.
Then one terrible night, the secrets they have all been keeping lead to an unspeakable tragedy. As Celaena's world shatters, she will be forced to give up the very thing most precious to her and decide once and for all where her true loyalties lie… and whom she is ultimately willing to fight for.
5 Assassin Kitties!!!
This was amazing. I thought I would miss the competition of the last book, but I didn't even think about it. Now that Celaena is the Kings Champion, she is required to do anything he asks of her and that is mostly assassinating people for the king. The king has a list of people who he believes are plotting against him and his power. He wants to eliminate the threat and sends Celaena to do his dirty work.
"But death was her curse and her gift, and death had been her good friend these long, long years."
More is revealed around the mysterious things that were happening in Throne of Glass. Celaena is doing her research and really listening so she is finding out more. There were some huge reveals that were awesome and somewhat shocking. There were some tragic moments that had my mouth hanging open. I really didn't want to believe it was true, but alas. There is still more going on here with some particular characters that I am going crazy trying to figure out.
"The best lies were always mixed with truth."
Celaena is a super defiant person. She is really going her own way and I love that about her. She doesn't take shit from anyone, including the king. Sometimes that's not a good thing for other people, but Celaena sort of just does whatever the hell she wants.
"Then Celaena and the King of Adarlan smiled at each other, and it was the most terrifying thing Dorian had ever seen."
Archer is a new character we meet and he is kind of confusing. I didn't really know what to think about him at first. He is a sketchy character from Celaena's past, but they are thrown back together when the king gives her the task of assassinating him.
Nehemia, the Ellywe princess is still in the castle trying to help her people by becoming more acquainted with the king and his court. Nehemia has grown to become Celaena's best friend, a friendship both of them greatly cherish.
Most of the love triangle has fizzled out in this one. It is still alive somewhat, but is pretty well on the back burner. I am all for that. Celaena really doesn't need anyone. She is so independent. Dorian has had a type of revelation so he has some serious things he is dealing with on his own. Chaol is still quite the silent charmer, but something always goes wrong. There can't be an angst-free romance. I kind of missed him in this book and felt so awful for him.
"The rest of the world quieted into nothing. In that moment, after ten long years, Celaena looked at Chaol and realised she was home."

"I worry because I care. Gods help me, I know I shouldn't, but I do. So I will always tell you to be careful, because I will always care what happens."
Unlike in Throne of Glass, this book didn't get slow in the least. There was always something going. Whether through Celaena, Dorian, or Chaol, there was a scandal or a new discovery taking place. Celaena proved her badassery more in this book. We see more of what she can do with some great fight scenes.
"To escape death, she'd become death."
I also just have to say I am loving all of the names in this series. The characters, cities, kingdoms, continents, all of it are so unique and I wonder how Maas came up with it all. I wonder if it is based on a language or something completely made up. It is so nice reading each one. They sound so medieval and it's awesome!
"But he had no idea what sort of darkness lurked inside her, or what sort of monster she was willing to become in order to make things right."
Great sequel to the series. This will definitely keep me wanting more!
♥
How many of you have read this?
Did you love it more than the first?
Have you read all the books currently in the series yet?