In a sea of books, Throne of Glass stands out among the crowd. Unique plots and great world building will have you sinking into the story from the first chapter.
Throne of Glass by Sarah J. Maas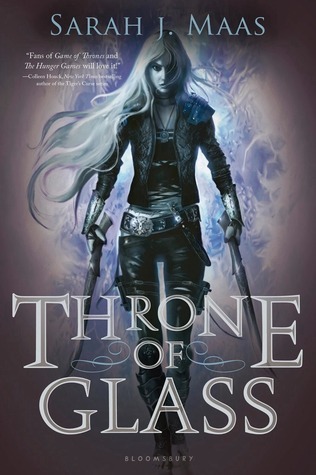 In a land without magic, where the king rules with an iron hand, an assassin is summoned to the castle. She comes not to kill the king, but to win her freedom. If she defeats twenty-three killers, thieves, and warriors in a competition, she is released from prison to serve as the king's champion. Her name is Celaena Sardothien.
The Crown Prince will provoke her. The Captain of the Guard will protect her. But something evil dwells in the castle of glass–and it's there to kill. When her competitors start dying one by one, Celaena's fight for freedom becomes a fight for survival, and a desperate quest to root out the evil before it destroys her world.
4 Fantastic Kitties!
DUDE. DUUUUDE! This was simply badass. I know, I know… I feel like the last person on the planet to read this book. Honestly, I would have started it earlier, but I am so bad with cliffhangers/having to wait for new books to come out in a series. I was going to wait for at least the 5th book to come out, but I decided I couldn't wait any longer. I think there is going to be 6 books in the series. Right? The 5th book is set to be released September 6th, 2016 and I just saw the cover while looking for the release date.
Empire of Storms by Sarah J. Maas
Release date: September 6, 2016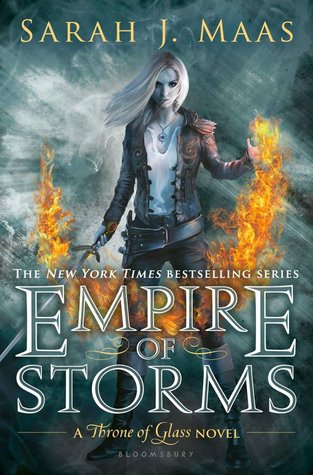 I would share the blurb, but spoilers.
Okay, but back to the first installment. I always think I won't like fantasy, but then I almost always do. I don't read a ton of it, but Throne of Glass seemed so unique. When I was explaining the plot about the competition to be the Kings Champion to a friend, it sort of came off like a Hunger Games-esque plot, but it isn't in the least bit.
"Libraries were full of ideas–perhaps the most dangerous and powerful of all weapons."
Celaena Sardothien is basically fighting for her freedom from the prison/work camp she is at when the book first begins. The crown prince Dorian Havilliard chooses Celaena for his champion to compete against 23 other criminals in a competition where each are pitted against each other in many different tasks to see who comes out on top. As the competition ensues competitors start to die mysteriously between battles from an unknown death and an unknown murderer.
Celaena's fiercest competition is Cain, a soldier in the kings army. The way he is described as being huge and mean and pretty much everyone's pick to win. I really loved reading each competition. I thought it was going to be more like a "fight to the death" type battle from the get-go, but really it was mostly skills tests when weapons, poisons, etc. But then there were definitely some fight scenes, which were awesome!
"My name is Celaena Sardothien. But it makes no difference if my name's Celaena or Lillian or Bitch, because I'd still beat you, no matter what you call me."

"Second place is a nice title for the first loser."
In this book I really was not expecting a love triangle. That really surprised me. I mean, almost every book contains some romance aspect because love, but two love interests can make you cringe at the thought of a love triangle like Twilight. It wasn't terrible though, and I say that with a severe disdain for love triangles. #TeamChaol 😉
The book is told from third person POV and there are a lot of characters. Each one being developed so well. The story is woven together perfectly. That is my absolute favorite thing about books – how well they come together in the end and let me tell you, this one is awesome. Somewhat predictable, but it's hard to use foreshadowing and not give things away. It is sometimes necessary to develop the story well.
"I name you Elentiya." She kissed the assassin's brow. "I give you this name to use with honour, to use when other names grow too heavy. I name you Elentiya, 'Spirit That Could Not Be Broken."
I was completely impressed by the writing level, the characters, and uniqueness. However, the one complaint I have is that the story sort of stood still for a while. No new information was given away. It was just sort of a day to day living type thing, which did develop Celaena's character more, but was kind of grueling to get through after such intense scenes. A few people told me that the story doesn't start picking up more until book 2 and I can completely agree with that.
"Apparently, a woman can only go so long without a sword between her hands."
There is so much going on in this book. I feel it is barely just scratching the surface of what is to come. Faeries, the Wyrd, magic, ancient teachings, so many things I can't wait to find out more about!
"Names are not important. It's what lies inside of you that matters."