A different kind of summer romance with a concept that will keep you fully engaged, even though some of the content will have you scratching your head.
99 Days by Katie Cotugno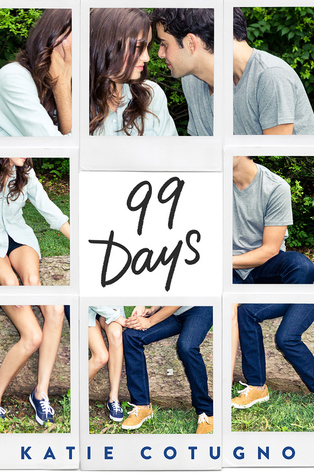 Day 1: Julia Donnelly eggs my house my first night back in Star Lake, and that's how I know everyone still remembers everything—how I destroyed my relationship with Patrick the night everything happened with his brother, Gabe. How I wrecked their whole family. Now I'm serving out my summer like a jail sentence: Just ninety-nine days till I can leave for college, and be done.
Day 4: A nasty note on my windshield makes it clear Julia isn't finished. I'm expecting a fight when someone taps me on the shoulder, but it's just Gabe, home from college and actually happy to see me. "For what it's worth, Molly Barlow," he says, "I'm really glad you're back."
Day 12: Gabe got me to come to this party, and I'm actually having fun. I think he's about to kiss me—and that's when I see Patrick. My Patrick, who's supposed to be clear across the country. My Patrick, who's never going to forgive me.
2 summertime kitties!
Despite some of the main character's terrible choices there was definitely a level of entertainment something like a soap opera would bring to you. I just had a hard time connecting with the main character and some parts of the story line. However, 2 stars does not mean I hated it, it just means I thought it was okay. If I can finish a book, it means I liked it on some level. I'm also sort of an emotional reader and an impulse reader so maybe i just read it at the wrong time.
Molly Barlow has basically wronged her boyfriend and the whole town knows about it and hates her for it. The main premise of the story is totally believable and cheating happens like every day, so that's not the part I had an issue with. I don't really even care about the cheating aspect. I don't like cheating, but hell I don't like a lot of different things that happen in books and cheating is a real thing so writing stories about it is inevitable, but I digress. The part I had an issue with was the part about the whole town turning against her. Why do they all care about Patrick so much? He was basically shutting everyone out and a tad antisocial so I'm confused why everyone was on his side. I mean yeah, Molly did some questionable things, but damn, give her a break. She literally had to uproot her life and move across the country to gain some peace. I was not convinced that this was believable, when the author made such believable characters.
The main character Molly definitely seemed like a confused teenager, which so many of us are or used to be, but damn girl, learn from your mistakes. I wanted to root for her, I really did, but she made it hard when every time she got on the wagon, she was falling right off again. I wanted to shake her on multiple occasions. She wasn't all bad though, when someone was nasty to her I was rooting for her to win or get them back. I know I still kind of liked her if I was hoping for the bullies' demise.
My favorite part of the book was the book within the book, Driftwood. Molly's mother is a bestselling author and wrote her latest bestseller based on her daughter Molly's life and her cheating on Patrick. Subsequently making her daughter's life a living hell. I thought this idea for a novel surrounding the life of a girl in a novel was very clever. I also really liked how each day was a chapter and followed the days one by one.
Overall, the parts I just couldn't get over led me to rate this kind of low, but really it was pretty good and don't let that stop you from giving it a chance! I actually borrowed it from the library so no harm, no foul!