Lovely story that makes you want to live everyday as fully and happily as possible.
Me Before You by Jojo Moyes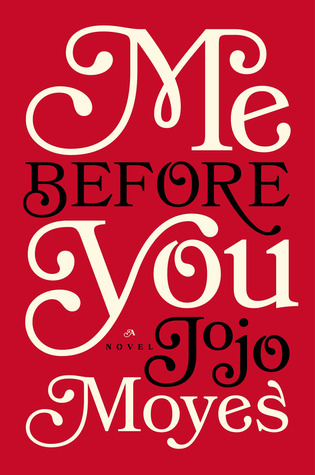 Lou Clark knows lots of things. She knows how many footsteps there are between the bus stop and home. She knows she likes working in The Buttered Bun tea shop and she knows she might not love her boyfriend Patrick.
What Lou doesn't know is she's about to lose her job or that knowing what's coming is what keeps her sane.
Will Traynor knows his motorcycle accident took away his desire to live. He knows everything feels very small and rather joyless now and he knows exactly how he's going to put a stop to that.
What Will doesn't know is that Lou is about to burst into his world in a riot of colour. And neither of them knows they're going to change the other for all time.
3 lovely British kitties!
This is my first time reading anything from Jojo Moyes and I have to say her writing is awesome. I loved the way the story flowed, the dialogue, and the characters.
The book starts with a prologue of a terrible accident, but doesn't go into much detail. We find out everything later.
"You only get one life. It's actually your duty to live it as fully as possible."
Louisa Clark is happily living at home working at a tea shop, The Buttered Bun. She doesn't have huge aspirations in life, but she is content and truly happy. After she loses her job because the business is being sold, she must find new work to help her family make ends meet. Lou contacts a job seekers agency and is set up for an interview for a caregiver position in a home setting. The job pays much more than the minimum and she accepts.
Will Traynor was involved in a motorcycle accident that took away his ability to care for himself and his desire to live. His life is currently very joyless. He lives a very solitary and sad life, which is a stark contrast from what he used to live. He has no idea that Louisa is going to blow into his life and shake everything up.
"I will never, ever regret the things I've done. Because most days, all you have are places in your memory that you can go to."

"You can only actually help someone who wants to be helped."
Lou is just sunshine. That's the only way I can describe her. She has a very quick wit and her attire brightens up the room. Will is what I can only call clinically depressed, and with good reason. All people handle these types of life changing accidents differently and Will didn't take it very well. Will and Lou have very different personalities, but in the company of each other, each one brings out different traits in the other. I loved following Louisa through this story, she is a super likable character, at least for me. Will's personality was distant and cold at times. The author did a great job at portraying them as separate characters.
"I thought, briefly, that I would never feel as intensely connected to the world, to another human being, as I did at that moment."
I was told this story would make me cry, by multiple people so I had a strong face going in. I was thinking whatever they can throw at me I will expect it. I guess that's why I was really not emotionally affected by this book. I didn't cry at all. I mean, yeah it was sad, but again, I was expecting it. I think everyone telling me it was sad made me predict everything. I wish I could have gone in blind on this one, but with all the fuss about the movie it was impossible.
With all of that said, it was a great book. I enjoyed their banter tremendously. I also love reading books by British authors because you get all the Britishisms, which are so fun to read.
"Push yourself. Don't Settle. Just live well. Just LIVE."