Judging by the Cover Tuesday is a weekly bookish meme, hosted by Hello Beautiful Book Blog.
Anyone can play along, just do the following:
Search the web for the cutest cover you come across, ideally an unreleased book
Don't read the synopsis
Try to guess what the book is about
Read the synopsis and see how close you came
Make sure to link Hello Beautiful Book Blog as your host! ♥
Post in the comments the link to your own Judging by the Cover Tuesday post or share your cover in the comments below if you do not have a blog. Thanks! 

🙂
---
♥♥♥Judging by the Cover Tuesday, where I score the web for the cutest cover I can find and try to guess what the story is going to be about before reading the blurb. All books are only judged by the cover and are not yet released.♥♥♥
I've been slacking on judging covers here lately so let's get right down to it! First up, we have a new book from the seasoned bestselling author, Staci Hart.
First Impressions: How freaking adorable is this cover! Immediate connection to the book for me. It's going to be a romance for sure, probably an angsty one. That's really all you need to know about this one!
I'm totally confident so let's read the blurb! 😉
Wasted Words by Staci Hart
Release date: May 19, 2016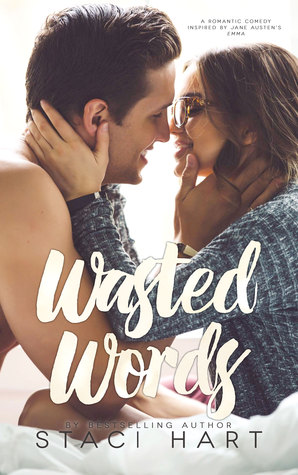 Some universal truths refuse to be ignored. 
Peanut butter and jelly are a match made in heaven. Spaghetti and meatballs are best friends forever. And guys like Tyler Knight don't go for girls like Cam Emerson.
She knew from the second she met him that he didn't belong on her bookshelf, the six-foot-six ex-tight end with a face so all-American, it could have sold apple pie. So she shelved him next to the supermodels and rock stars and took her place on her own shelf — the one with the flannel-clad, pasty-faced comic book nerds. Most of her boyfriends have existed between the pages of books, but rather than worrying over her own lacking love life, she puts all her energy into playing Cupid, using her job at the book bar, Wasted Words, as her stomping ground.
Tyler Knight always looks on the bright side. His career-ending injury turned into a job as a sports agent. A horrible breakup led him to Cam, his quirky, smart roommate who is far more beautiful than she realizes. She's made it perfectly clear she's not interested in him — not like that at least — but if she ever changes her mind, he won't hesitate. Because he doesn't see the lines she's drawn between them, as much as she insists that they're there. Deep down he knows that despite their differences, they're a match well made.
*A romantic comedy inspired by Jane Austen's Emma*
AND ROMANCE ENSUES! 😀
I'm not giving myself a rating on this one since I didn't go into detail, but I really want to read this. Hart's With A Twist: A Bad Habits Novel has been on my TBR for some time, so maybe I'll start with that one. 
ADD TO YOUR TBR: GOODREADS
PREORDER: AMAZON
---
Secondly, we have another author who is no stranger to novels, Carmen Jenner.
First Impressions: This cover is AWESOME! When I first looked at it, it looked like something completely different and as you keep looking, it morphs into something else. I really love when covers aren't exactly what meets the eye. This is definitely going to be a book revolving around the military. A man in the military is struggling with something, whether it be war, a relationship, PTSD, etc. I would read this by the cover alone, I don't even need to read the blurb.
But, for fun let's read it anyway. 😉
Toward the Sound of Chaos by Carmen Jenner
Release date: May 18, 2016
Jake Tucker is broken. At twenty-two, he went in to the Marine Corps a naïve, troubled youth. Nine years and four tours later, Jake finds himself back on US soil, though his mind remains firmly planted in the sands of Afghanistan with the men he left behind.
Wounded, chewed up and spat out by war, Jake has only his dog, Nuke, PTSD, and survivor's guilt to keep him company. He's lived every day for nine years wondering when it will be his last, but there's little comfort in the fact that he's still standing when his platoon isn't.
Ellie Mason doesn't have time for broken. She's too busy trying to put food on the table. And keeping up with the demands of her autistic son, Spencer, is sometimes like fighting behind enemy lines. As if navigating the minefields of single parenthood isn't enough, Ellie finds herself drawn to the quiet Marine who's just as lonely as she is. But she's loved damaged men before, and it left her wounded.
Set against the picturesque backdrop of Fairhope, Alabama, Ellie and Jake find themselves running toward the sound of chaos.
Love is war.
Only the strong survive, and surrender is inevitable.
Oh, wow, this sounds amazing! I just really, really want to hug Jake already and tell him it's going to be okay!
I did alright, but this one felt easy. 4/5 hearts! ♥ ♥ ♥ ♥
ADD TO YOUR TBR: GOODREADS
PREORDER: AMAZON