This is the kind of book that keeps you awake at night while you're sobbing into your pillow, but then meets you with open arms when you come out on the other side. It is sadness and comfort all in one.
Bright Side by Kim Holden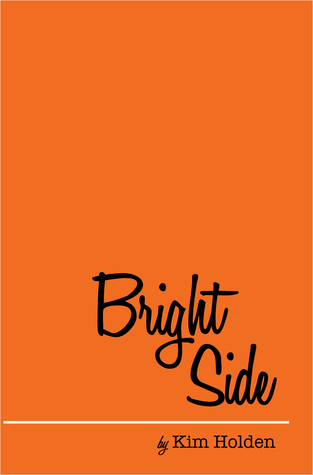 5+++++++ Stars!!!
This is my favorite book I've read so far this year.
It's taken me a little while to be able to write this review. I was completely wrecked and I don't care who knows it. Bright Side is an amazing read. I recommend it to anyone who loves emotional books. They are my favorite, but I have to be careful with them because they have the power to destroy me.
Like pretty much all of my other reviews, it will not be spoilery and I will just talk about some of my favorite parts. I don't cast a lot of my reviews, but this one deserves it, because I can see each one so clearly.
Kate aka Bright Side
Gustavo aka Gus
GUS being numero uno on my favorite character. Oh, Gus. I think you might have taken Ridge's place in my number one book boyfriend slot. He was just so… kind. I like kind. And hello, he's in a band.
Keller Banks
It was so easy for me to connect to Kate. It was easy to connect with Gus and Keller. This book was just easy. It flowed seamlessly. Kim Holden is an amazing author. She wove the story perfectly.
"Reading is an escape from the outside world. Everyone needs a little of that to keep their sanity."
This book is very much character driven. Kate was the best kind of main character. She feels deeply and loves people. She sees the good in everything and it was just nice to read about a character that wasn't always living for the angst. I loved the connections she made with people and the friendships she created. I felt every one of them.
"…you only get one life to live. Imagine for a moment that you were free of all the expectations in your life. What would you do? How would you live your life with no one watching? What would your future look like?"
Gus, her best friend of many years. They talk regularly and their friendship is just seamless and easy. They love each other down to the marrow in their bones. Keller, which was her romantic relationship and love interest. They found each other at what might have been the perfect time. Clayton and Pete, her friends at college and dorm-mates. She befriends Clayton as soon as she sees him sitting alone. Pete is part of the deal because he is Clayton's roommate, but that doesn't stop Kate from making him feel like a best friend. Shelly, her new coworker and music loving soul mate. Kate helps Shelly break out of her comfort zone and have fun. Even Romero, from the coffee shop. I feel like they are best friends. I don't know how Kim Holden did that, but she must be an amazing friend in real life.
There is so much that happens in this book that I just can't really say much of the plot. I love going into books not really knowing what and when things happen. I think this is one of those books you should just experience and enjoy so I'm not giving a summary of events.
"Just when you think you know someone, they change. Or you change. Or maybe you both change. And that changes everything."
Bright Side had me laughing out loud many different times. Kate is so funny! Then, at other times I was sobbing. It was a roller coaster of emotions. It was a mix of light-hearted pleasure and sorrow. Even though there are some definite conflicting emotions, I never felt confused. It fell into place and it was hard. Even days later I would listen to the Bright Side playlist and just start crying in the car. Don't let that deter you from picking this up. This is a must read.
I've always been a pretty positive person, but I do think negatively more than I should. This book is my reminder to not sweat the small stuff. Life is short and we must 'do epic' every moment we can. I have thought about this book more than I should, just in every day life. I keep trying to be more like Kate and live on the Bright Side. This was more than just a story, it was encouragement. Encouragement to be brave and 'do epic' every day.
If this has been sitting on your TBR pile for a while or you are on the fence about reading it, do yourself a favor and open the book now.
"Today, my life is awesome.
I don't want to think about tomorrow.
Or the day after that.
So I repeat to myself: Today, my life is awesome."
Kim Holden's playlist for Bright Side with POTENTIAL SPOILER WARNING!
Bright Side playlist
(Potential Spoiler Warning)
I cannot write without music—physically, psychologically, emotionally impossible. The writing process for this book started late 2012 and wrapped up early 2014. These are the songs that I fell in love with for the first time, or the hundredth time, while writing Bright Side. They inspired the overall vibe of the story and its characters, or in some cases they inspired very specific situations or even entire chapters. Kate's passion for music is my own, though I can't play an instrument and I'm completely tone deaf when it comes to singing. Like Kate, I LOVE me some strings, especially in unexpected places—they make any song sexy. And I've got a HUGE thing for California bands. I'm lucky to say I've seen most of these bands perform live (many of them while I was writing this book)—the rest are on my bucket list.
We Might Be Dead By Tomorrow, Soko
If Bright Side has a theme song … this is it. It's like being privy to the internal dialogue that goes on inside Kate's head. Just Kate talking to Kate. And it's far from depressing, it's realistic and encouraging. And the strings … ahh the strings. They're magical and so, so pretty.
 400 Lux, Lorde
This is Kate and Gus. Their friendship. Solid. Laid-back. True. Easy. Comfortable.
Eula, Baroness
My husband says this song is Rook. I'm not going to argue with him. When he's right … he's right. It is Rook.
Sleeping Witch, Royal Thunder
I saw this band play live while I was writingBright Side. They opened up for Baroness and I'd never heard of them. They. Blew. Me. Away. The lead singer's voice is a wall of sexy, aggressive, raw power – it's intimidating. If Shelly had a theme song, this would be it.
Jump Into the Fog, The Wombats
The Wombats' lyrics are smart and clever. This song is no exception. It's Gus.
Bug Eyes, Dredg
Dredg is the most underrated band on the planet. Bug Eyes is one of my favorite songs. They're also from California, so naturally Kate would love them. Phenomenal live.
Done With Love, Teenage Bottlerocket
You've gotta love any song that starts with "I got shit to do." Teenage Bottlerocket is the bestpunk band around.  I've seen them play live many, many times. They never disappoint.
Waiting All Night, Rudimental featuring Ella Eyre
I can see Kate, Clayton, and Shelly dancing to this song, because I can't sit still when I listen to it. I love the energy—it's happy. Happy is amazing.
Same Love, Macklemore and Ryan Lewis
The first time I heard this song I was in the car with my husband and son driving down Church Ranch Road to go to lunch on a Saturday afternoon. I remember it vividly because we all sat in complete silence (which is hard for P. and I) and listened to the entire song. When it was over my husband and I just looked at each other. It was a look of agreement. A look that said I am totally on board with everything that guy just said. I wanted to roll down the window and scream, "Yes! This guy gets it! He gets it!" This song is for Clayton & Morris and Romero & Dan.
 Mutilate Me, Teenage Bottlerocket
Another of my favorite Bottlerocket songs. This song is for Peter and Evelyn … from Gus … with love.
Lullaby, The Cure
I love The Cure … LOVE them. I remember hearing them for the first time when I was in eighth grade and it literally flipped a switch inside me. It was an epiphany. I finally understood what made music so magical and inspirational. It fueled a lifetime love of music.
Angels, The xx
The xx is one of my favorite bands and Romy Madley Croft is my favorite female vocalist. I could include every song they've ever recorded, but chose Angels because it fit within the context of the story. It's the ultimate love song. This is how Kate sees Keller. If you have the chance to see The xx live, do it!
My Song 5, Haim
This song is Kate. Everything about this song is badass. It's confident and doesn't take any shit – just like Kate. This may be one of my favorite songs of all time, I love it that much. Another California band. There aren't many female guitar players killing it, but Danielle Haim is. She. Kills. Live.
Sex, The 1975
I would include every song by The 1975 on this playlist if I could because they're like children – hard to pick a favorite. I. LOVE. THIS. BAND. Amazing, amazing, amazing live. This song is for Franco.
Panic Switch, Silversun Pickups
This song is controlled chaos, which makes it freaking genius. Love everything about Silversun Pickups, but I especially love Nikki Monninger. She is the most badass bass player ever, pretty dresses and all. And … yup … California band.
 Sweater Weather, The Neighbourhood
This song is Keller. It's his heart and all the feelings it holds for Kate. I listened to this CD over and over and over again while writing this book. Yet another California band.
Nothing Left to Say, Imagine Dragons
This is the song Gus writes after finding out about Kate. This is the song they record together. I listened to this song no less than two hundred times in the days leading up to writing that chapter. Every time I hear it I can see Gus in my head in the recording studio singing his heart out … and it gives me goosebumps.
Northern Lights, Thirty Seconds to Mars
Though I love early screamer Leto (think The Kill), Mars latest album was released while I was writing this book. This song is my favorite on the album. It's the oddball, and I mean that in the best possible way. And the strings. I'll say it again … the strings. They're beautiful. This is the kind of song I think Kate would write (at least in my head). And yeah, you guessed it, California band.
Pictures of You, The Cure
Absolutely beautiful song. Breathtaking. Robert Smith is a god.
Let Her Go, Passenger
This song belongs to Gus and Keller. I heard this song for the first time as I was working through the final few chapters in my head. I wrote those chapters while listening to this song on repeat … repeat … repeat. It may be the saddest song I've ever heard, but I love it.
Everything to Nothing, Manchester Orchestra
The title says it all. Manchester Orchestra tops my favorites list in two catagories: best lyrics and best live performance. They're perfect.
Favor's Keeper, Index Case
This song is intense and desperate and passionate. And when it hits the 3:42 point hold on, because for the next three minutes it's perfection. This song is Gus at the end of Bright Side moving into my next book, Gus.
"And I loved you more.
Then I loved you."
Best ending to a song ever written.