Sweet best friend romance.
Sincerely, Carter by Whitney Garcia Williams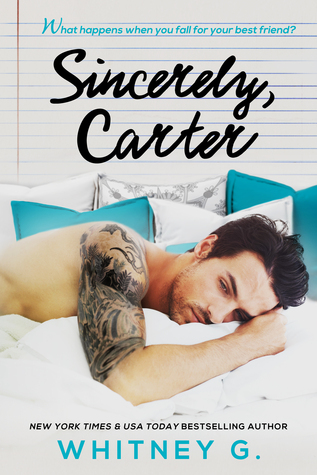 4 Kitty stars!
"Some people come into your life for a reason, some a season, and some a lifetime."
Carter and Arizona have been friends since the fourth or fifth grade depending on which one you ask. They started out rocky, but they grew into fast friends. They have been together through everything their whole lives and that is not different now. They are both students at schools close to one another and hang out on the regular. Some things begin to change after one night…
I love friend romances! I just love those moments when they start to realize they share more than just a friendly connection, but something deeper. They realize that they have been lying to themselves. I know this feeling all too well and it's awesome when it happens.
The relationship Carter and Arizona have is adorable. Gayle's restaurant was one of my favorite things they shared.
"Let me guess," the waitress rolled in front of us on her white skates as soon as we entered. "A Belgian waffle with vanilla yogurt and strawberries— with a sprinkle of chocolate chips for one order, and a waffle tower with chocolate yogurt, peanut butter, and a sprinkle of Oreo chips and candy on the side for the second order?"

We both nodded. We ordered the exact same thing every time we came here.
I love how protective they are over each other. They always choose each other over anyone else, which has posed a problem in previous relationships for obvious reasons. That should have clued them in!
Carter is a smart cookie, scoring 180 on the LSATs, he is set to go to law school in the fall.
Arizona loves to cook and wants to be a legitimate chef more than anything so when she gets an opportunity that she can't refuse, things start to change again. Hearts are broken, lives are interrupted, feelings put on pause. I know it was for the best, but my heart was ripped up. Sometimes I feel things like "that" i.e. lying is totally unnecessary. The angst was controlled however, not too much I was rolling my eyes at so that's always a good thing.
Definitely worth a shot. I really enjoyed this love story and will be continuing with Sincerely, Arizona very soon!
Sincerely, Beth