A wonderful collection of stories that take you back to the world of The Lunar Chronicles to experience new enchanting secrets from multiple characters. This is a do not miss for Lunar Chronicles fans!
Stars Above by Marissa Meyer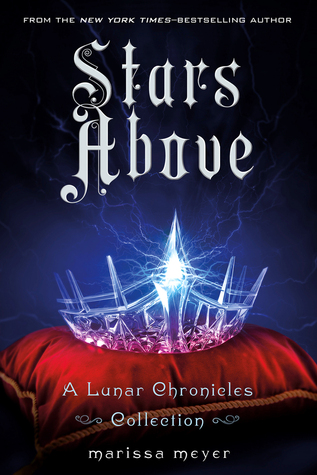 4 kitty stars!
I haven't read any of these stories yet even though I think 4 of them have been previously released so I experienced them all together. I read Stars Above after finishing the Lunar Chronicles series. There will be spoilers from the Lunar Chronicles series, but no spoilers from Stars Above.
The Keeper
We get a look into the past when all of the Lunar Chronicles are set in motion. You will see how Michelle Benoit came to be involved with hiding Princess Selene. You will also get to see how Scarlet came to live with Michelle, her Grand-mere. You will learn some secrets about Michelle, Scarlet, and the mysterious Logan.
I really loved getting more Michelle. She is one tough lady. I loved how brave she was in the Lunar Chronicles. I was cheering her on in a few different scenes on how resilient she was. This story shows how she wanted Scarlet to be independent, brave, and be able to take care of herself. We get to see how much she cares for Scarlet and why she had to do some of the things she did, for Scarlet's sake and the fate of the world. I have even more respect for Michelle after reading this. Great addition to the story-line of Scarlet!
Glitches
This story is definitely a do not skip. In Glitches we learn how Cinder comes to live with the Linhs. We get some background on Garan and why he decides to help hide the Princess. We see Cinder interact with her new stepmother and stepsisters. Most interestingly we get to see how Cinder feels when she is finally woken from the stasis she has been put in for so many years and how she learns to use her new technology.
I really enjoyed getting to learn about how Cinder figured out her abilities and see what it was like being in a new environment without any knowledge of her past. Cinder doesn't remember anything from her previous life and is trying to adapt to her new surroundings. She has plenty of new technology installed in her body to help her along. I love getting to see how new it all feels when things pop up in her vision or her lie detector goes off. I love the snippet of Cinder and Iko, probably because Iko is one of my favorite characters! Glitches was an awesome prequel to Cinder!
The Queen's Army
In The Queen's Army we take a look into the life of Ze'ev Kesley before he was Wolf and how he became Alpha Kesley, special operative in the queen's army. We see Wolf's life in the working sectors of Luna, his family, and the rigorous changes to Wolf's body and mind.
I needed this scene into Wolf's life before, but I hated reading about them modifying him. I love him and how strong willed he is so it was hard to read about the changes they made to him. I hate that he was forced to fight. UGH. The story was good, but I just felt so sorry for Wolf!
Carswell's Guide to Being Lucky
Oh Lordy, here's my favorite fellow! I want to be Thorne's BFF. This story was so important to understand some inner workings of Carswell. The story is set with Carswell being in high school and he needs a tutor for one of his classes. He doesn't see the point and just wants to make money to one day own a rampion. Something simple and sensible since his parents are anything but. We see his family and their relationships. I love getting a look into Carswell's former life.
Thorne is the same witty, conniving guy who will do whatever it takes to get what he wants. He definitely uses people, but still has a good heart at his core.
After Sunshine Passes By
This is the story of how Cress was placed on the satellite to become the spy for Luna. First showing the bunks she resided in with the other Lunar shells. It doesn't go into great detail about what type of testing they endured, just touched on having to give blood whenever they wanted it. Then one day, Mistress Sybil comes and informs Cress she will be leaving Luna.
It broke my heart to see the excitement of Cress getting to leave Luna and then the disappointment when she is placed on the podship, alone. It must have been such a scary time, going from constant companionship in the dorm to complete solitary confinement. I am so glad Cinder and friends were able to get her off the ship in Cress and no wonder she went to willingly. This wasn't my favorite story out of them all, but still liked reading about Crescent Moon.
The Princess and the Guard
This is the story of Winter before everything transpired in the Lunar Chronicles. This story is a little longer than the others, giving a ton of insight into Winter's mind. It starts with Winter and Jacin playing a game of "the princess and the guard". It was sweet to see them as children without so many worries in life. The most important theme in this story is the struggle Winter is having with her Lunar gift. We see in Winter that the princess has already given up using her gift and in The Princess and the Guard we find out why.
This story broke my heart to see the relationship between Winter and Jacin. They are both very loyal to one another, especially Jacin. They kind of have a forbidden romance, because the queen wants Winter to marry for political gain. This is before Jacin is a royal guard and I liked seeing him less formal. We didn't get enough of that in Winter. I also really liked seeing Winter use her gift in the beginning. It was definitely different since she didn't use her gift for anything bad. She is good at her core, but even the good she thinks she is doing really isn't good at all. After I finished, I just felt really sad for them since their lives are basically taken out of their hands and I hate it for them. Good addition to Winter!
The Little Android
This is a fairy tale retelling loosely based on The Little Mermaid set in the Lunar Chronicles world. It starts out with an android who feels a little different than the other androids she sees around her. Some things occur and she sets out on her own with a lost locket in tow in search of a new body. She finds Linh Cinder and her plans are starting to shape up.
I thought it was going to be a story about Iko for a minute, but alas. I enjoyed reading this story.  It was interesting, had some romance, but I felt depressed after finishing it. Marissa Meyer is eloquent as always with her way of intertwining a story.
The Mechanic
This is the story of Cinder and Prince Kai's first meeting told from Kai perspective. No new information here, but I loved getting to see what Kai felt and how he saw and perceived Cinder the first time he laid eyes on her. I love Kaito so it was nice seeing this scene play out through his eyes.
Something Old, Something New
This is an epilogue after Winter. I knew there was a wedding in this book and couldn't wait to get there. I am not going to say much about this because I want it to be a surprise. I didn't realize whose wedding it was and just assumed. It was sweet seeing all of the couples together at once. ♥
That concludes the extras from The Lunar Chronicles. I hate to see this series come to an end, although it was an epic one. I love how all of Marissa's stories are so flawlessly executed. The Lunar Chronicles is one of my favorite series I have ever read. So unique and intertwined perfectly. Must read.