Epically worthy debut novel from Sabaa Tahir written so eloquently. Unlike anything I've ever experienced before.
An Ember in the Ashes by Sabaa Tahir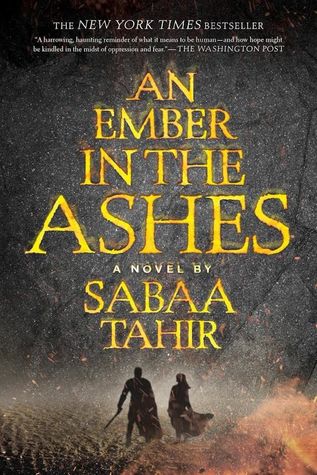 4 Kitty Stars!
An Ember in the Ashes – what an eloquent statement. I just love that title. I think it represents the book really well. The story starts when Laia's brother is taken by the empire for possessing some information that is illegal to have. Now Laia is doing all she can to get him back. She agrees to be sold into slavery to act as a spy for the resistance in exchange for the freedom of her brother. She is sold to the commandant and is made her slave girl. The commandant is an evil person with a record for torture and mutilation of her slaves and others. She even hates her own son and will have nothing to do with him. Elias is student at the Empire's military academy where he is one of the top students and about to graduate. Elias wants to escape the tyranny of the academy and everything it stands for as soon as possible. Laia is trying to stay alive and racing against time to save her brother from an untimely fate.
There is a medieval feel to the settings and battles, but at the same time I feel like we are sometime in the future. If it gave any type of timeline I missed it.
I felt sorry for almost all of the characters in this book, not only Laia, for obvious reasons, but also for Elias for being pretty much a slave as well. I felt sorry for Helene for the same reason, plus having to deal with Marcus and Zach. Cook and Kitchen Girl were my favorites to feel awful for, but they were still so brave no matter what they were put through.
"All the beauty of the stars means nothing when life here on earth is so ugly."
Laia is so freaking brave. She will do anything for her brother. She endures a lot during her time as the commandant's slave, but she is strong. I really admire her will and stubbornness. She is not trained in any type of fighting or has ever been in a fight for that matter. She takes her fear and turns it into something she can use.
"Fear is only your enemy if you allow it to be."

"You are full, Laia. Full of life and dark and strength and spirit. You are in our dreams. You will burn, for you are an ember in the ashes."

"There are two kinds of guilt: the kind that
drowns you until you're useless, and the kind that fires your soul to purpose."
That brings us to Elias, compassionate Elias. He was my boy! Sticking up for the underdog at any cost. He is willing to do whatever it takes to do the right thing. He is trying to play by the rules, but he is getting worn down by the thought of being a slave for the empire for the rest of his life. He is going to do something about it. He is brave just like Laia.
"You are an ember in the ashes, Elias Veturius. You will spark and burn, ravage and destroy. You cannot change it. You cannot stop it."

"The field of battle is my temple. The swordpoint is my priest. The dance of death is my prayer. The killing blow is my release."
The school was a great idea and I loved the concept. I really wanted more banter between the students. The few scene that we did get were awesome and I was longing for more of them. Tristus and Dex were hilarious and I really wanted more of their humor.
There are great fantasy and battle scenes. Especially during the trials. It was like a last one standing type battle. Each trial had me on edge. I was rooting so hard for Elias, but then I kept thinking he really doesn't even want this. He wants to be free, so it was a hard battle between wanting him to help the empire and letting him go.
Helene was another one I was rooting for, most of the time anyway. Elias and Helene have been friends since childhood and are always looking out for one another. I love Helene, but dang girl just shut up sometimes! She was annoying on more than one occasion, mostly with Elias and his more rebellious attitude. She wanted to do what the empire wanted 100%, but sometimes you have to break the rules to do what's right.
Marcus and Zach, UGH! I wanted to throat punch them. Marcus is such a creep! I don't have much else to say except, DIE!
Many of the scenes left me wanting more. More explanation, more banter, more everything. Sometimes that can be good or bad and in this case it wasn't bad, but not entirely good.
This was an awesome story and I am so ready to continue it. The sequel, A Torch Against the Night comes out at the end of August and that seems so far away!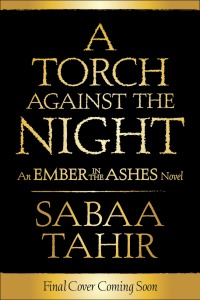 I haven't heard how many she is planning on writing, but I will read until the end. I can't wait to know what happens!