A unique and enjoyable adventure through time with a couple of worthy guides.
Passenger by Alexandra Bracken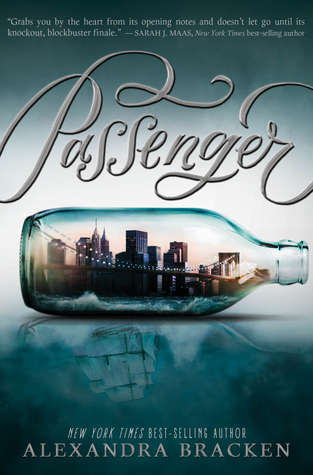 3 solid kitty stars!
passage, n.
i. A brief section of music composed of a series of notes and flourishes.
ii. A journey by water; a voyage.
iii. The transition from one place to another, across space and time.
I have so many questions after finishing this book, hopefully that will all be cleared up in Wayfarer. Since it ends all cliffhanger-y I am like a cat, the curiosity is going to be the end of me! At least this is only a duology and I won't be waiting for a third to emerge!
I loved Alexandra Bracken's The Darkest Minds series, that's what made me anticipate this book so much, but Passenger is supremely different from TDM so I won't try to compare telekinetic teens to time-traveling pirates. <— THIS is why I read. Where else in life would you be able to use those words in a sentence?
Etta Spencer is a violin prodigy who knows nothing of her dormant ability to travel through time, but is thrown into an unfamiliar world miles and years from home. Nicholas is a sailor with the task of delivering his passenger, Etta, to the Ironwoods. Now, together, Etta and Nicholas embark on a perilous journey across centuries and continents, piecing together clues left behind by the traveler who will do anything to keep the object out of the Ironwoods' grasp.
You cannot fathom the distance I would travel for you.
The romance was somewhat lacking for me. I just didn't connect with their relationship. Maybe the forbidden quality to it just didn't seem like forbiddenness at all. I did enjoy the adventure after they started to travel. The part on the ship at the beginning was super slow and hard for me to get through. It picked up a time or two, but was ultimately just slower paced than it should have been. The world building was great however, I really felt each place and it was fun to unravel the clues her mother had left for her. I love a mystery so that's probably what kept me going and like I said before I will finish this series when the next comes out.