Excellent companion novel for fans of Fangirl and a great journey for lovers of YA fantasy and romance.
Carry On by Rainbow Rowell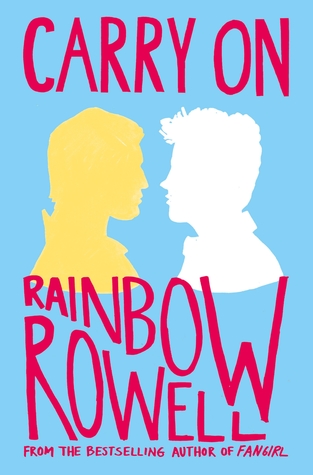 4 Magical Kitty Stars!
Siriusly enjoyed that! I love Simon and Baz.
"You have to pretend you get an endgame. You have to carry on like you will; otherwise, you can't carry on at all."
Carry On, Simon is a the fan fiction Cath was working on from Fangirl. Cath is a huge Simon Snow fan and now has a successful story of Simon on a fan fiction site called Carry On. Rowell has said this isn't Cath's story, but Rowell's own take on the Simon Snow series. The book starts out with Simon and his friends going into their last year of school at Watford, but one problem his nemesis, Basilton, doesn't show. Simon can't even enjoy that his evil roommate is missing because he is too busy worrying about him.
I want to go through the characters and give you a feel for them. Simon Snow is the main protagonist of the story. He is trying to get a handle on his magic and his life. Baz is from the house of Pitch, a very wealthy snooty family and Baz acts as so. Penelope is Simon's overbearing best friend showing up at every moment. Agatha is Simon's girlfriend who doesn't really want to be his girlfriend. Lucy is a mysterious narrator that we keep trying to figure out. Ebb is a goat herder living at the school and takes Simon under her wing. The Mage is the magician who runs the school and is Simon's guardian. The Humdrum is like the bad guy, but is talked about more than anything.
"He smiles, and he's made of trouble."

"He's a book full of footnotes brought to life. He's a jacket made of elbow patches."

"You were the sun, and I was crashing into you. I'd wake up every morning and think, 'This will end in flames."
Now that we have that covered, I want to say how much I enjoyed this book. The mystery was good and the romance was quite lovely. Rowell has a way of making her characters so likable and real. Even in a fantasy world, some of the things Simon or Baz would say or think would just be like something I have thought before. I could picture everything so vividly.
The first part of the book throws us into the mix. We basically start with Simon heading back to Watford. It is like reading the final book of a long running series, but Rowell takes care to explain everything going on. We are still in the dark about some things, but so are the characters. Like, what is the Insidious Humdrum? What's the Mage's deal? Who is Lucy? What about Simon's parents? There are so many questions.
The book is in Simon's perspective for a the first third of the book. He is getting settled back in and still trying to solve the mystery of the Humdrum. When Baz returns is when the book really picked up for me. I freaking love Basilton. He is my favorite character from this book. He is snarky and witty and evilish, but not really evil. He is so lovable and funny! I'm gay and I'm gushing, but I don't care! I ♥♥♥♥♥ Baz!
The story is never really slow since we get to read from so many character's perspectives. Simon, Baz, Penelope, Agatha, The Mage, etc. It's great to see what everyone is thinking or up to during certain times. It kept me reading for so many reasons!
Now, that I've thoroughly gushed about this I want to give my Harry Potter theories! I must say though Carry On is much different than HP, but of course you can make connections.
Simon= a Harry/ Neville combo. He's the chosen one and the Mage's heir, like Harry, but can't control his magic very well like Neville.
Baz= a Draco/Ginny mash up. Evilish/wealthy family, but the love interest for Simon with a softer side.
Penelope= a Ron/Hermione mix. Family like Ron's, but with Hermione's brain. Their personalities both sort of shine through as well.
Agatha= a hard one for me to pinpoint, but I kind of see her as Hermione, but a less powerful more boy crazy Hermione. Maybe some Cho Chang in there? I don't know on Agatha.
Ebb= a female Hagrid.
The Mage= a even MORE mysterious Dumbledore.
The Insidious Humdrum= Voldemort.
It was fun trying to figure out what Rowell envisioned when she was coming up with these characters and this world. I will say even though there are similarities, I really didn't feel like I was reading a Harry Potter knock off. The characters stand well on their own. I would read it and still would have enjoyed it if I had never read Harry Potter.
"Carry on, Simon."